from  km  4 `468  to  km  5`047                total  579 km
On August 20th at 10:30 a.m. and after 4'468 km I was in Belarus. It all happened so fast and I was treated so courteously that I hardly had time to think. The customs officer was so helpful, that she even came out of her office to show me the way on the map. Then another customs officer brought me back to the bike and wished me a good trip. After the advice of the customs officer, I cycled now on a dirt road to a distant main road and thus bypassed the highway to Minsk. The landscape between the border with Lithuania and the 2 million-strong city of Minsk is slightly wavy, like a huge, not quite smoothed linen sheet, which lies over the country.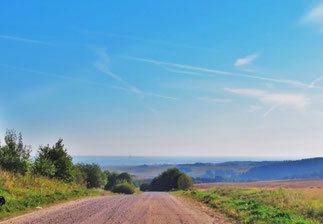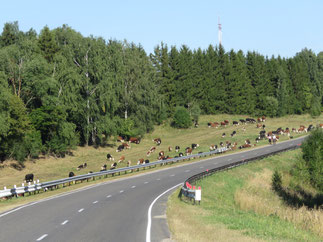 The villages are, as usual in the Baltic States and in Russia, conglomerations of small and coloful wooden houses. The houses are well maintained and are repainted with much love over and over again. Quite a contrast   to Russia.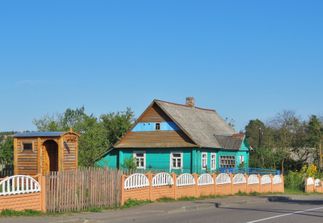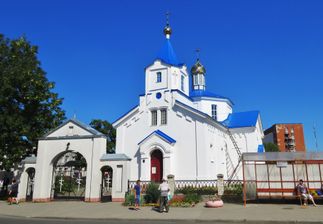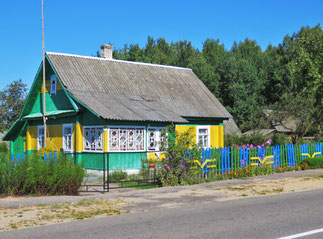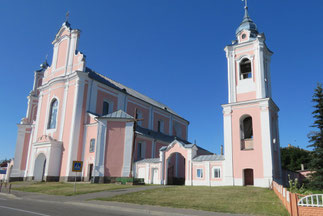 The villages were  friendly and well maintained. The people were very helpful too. When I sat for  a little meal on the roadside, at least three cars stopped to ask me about my health. They all wanted to know if I was fine. When I was looking for a hot spot for the Internet in Maladzyechna (about 80km ahead of Minsk), a young man came up to me and spontaneously asked if he could help. We first went to one of his friends (travel agency) but the network just did not work. Then he showed me a very cheap, but good restaurant (similar to a canteen), where I could eat for about 3 euros and then he convinced the lady at the front desk of the only hotel in the city, that I had to go into the Internet. After a long discussion back and forth, it finally worked and I was able to book a room in a "dog-friendly" hotel in Minsk. Thank you Pavel!
  With these problems, I wasted despite the friendly people needed a lot of time and now had to cycle almost 80 km to Minsk. First leg, I rode along a main road, but after some time traffic built up and Dimitri had to go into the trailer. On this track some cyclists from the Ukraine trained and I tried to follow them as fast as possible. It went a bit downhill and therefore I could follow them, but as soon as it became flat I had to let them go. Since I was driving relatively fast, I did not realize that I was suddenly on a highway. Fortunately, the cyclist Vlad came on his high-tech bike and accompanied me to Minsk. "You only have to take care at entry and exit" was his answer to my questions about cycling on the highway. He accompanied me to the city and to the new Sports Palace, where he deposited his bike. After a refreshing shower he showed me all the facilities of this interesting place and finely drove me to the hotel. From the reception he phoned his wife and then they invited me to a delicious dinner (stuffed hot peppers - one of my favorite dishes) at his home. Thanks Anna, Ira and Vlad.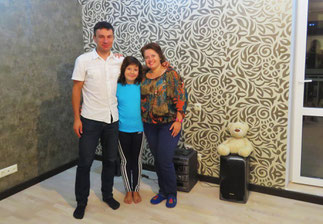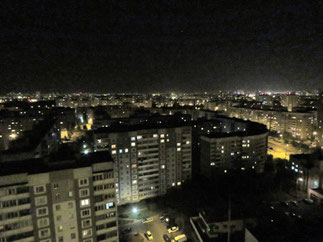 After the meal and the fine home distilled spirit, they showed me Minsk by Night. This eventful day, with a new record of 104 km, ended at two o clock in  the morning when I felt in my bed with a happy laugh in my face.
The next morning I did a sightseeing tour together with Dimitri. Minsk was almost completely destroyed during World War II and what was left was pulled down so that the city could be completely rebuilt. Minsk is located on the river Swislatsch, on whose banks spacious parks were built. Countless squirrels give here their rendezvous and just as many works of art are standing or lying under the trees. The Swislatsch later flows into the legendary Beresina.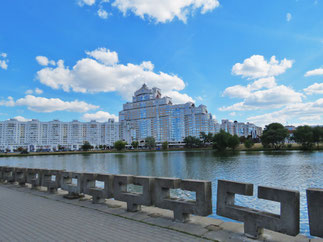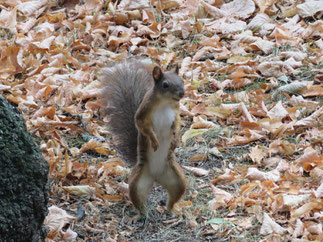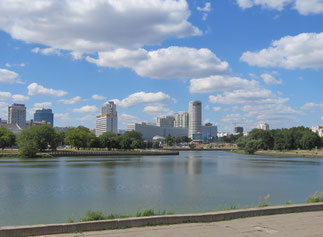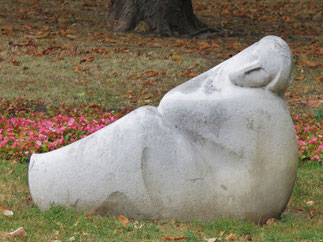 Only a few old buildings (mainly churches) outlast or were rebuilt. New houses for theater, ballet and circus, heroic state buildings and, most recently, state-of-the-art architecture of glass and concrete enrich the city.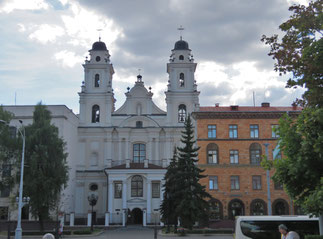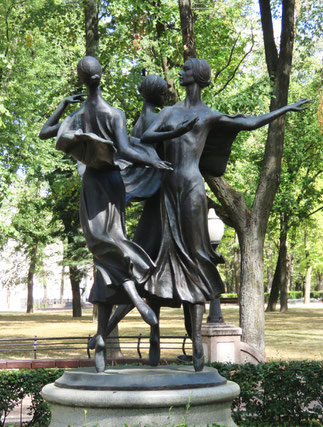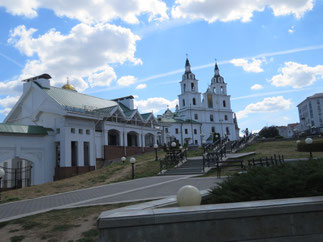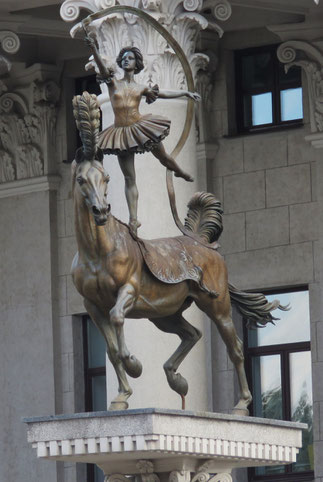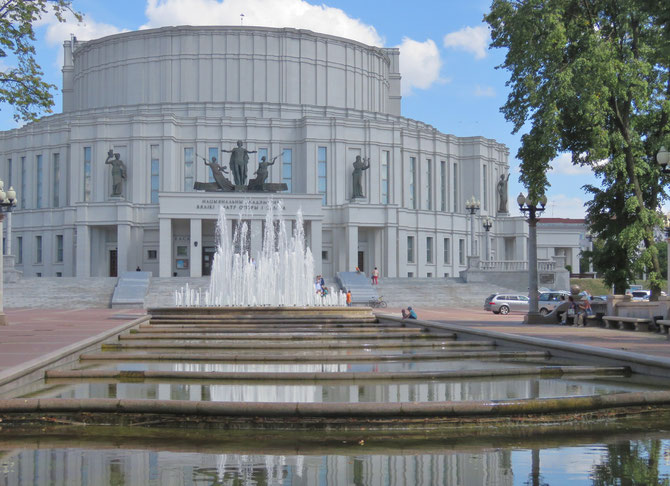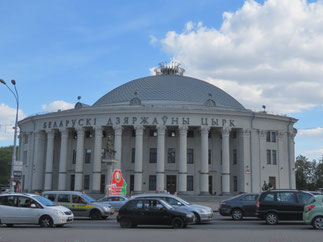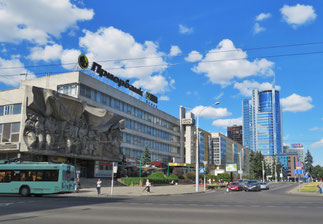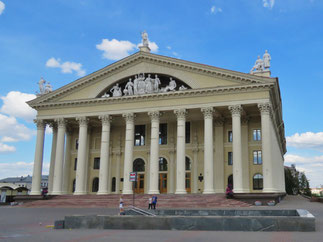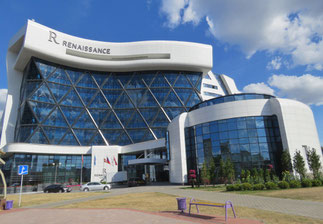 The time of the small Orthodox church and the few old, romantic wooden houses is well foreseeable. They will soon have to make place for new modern motorways and high-rise residential blocks.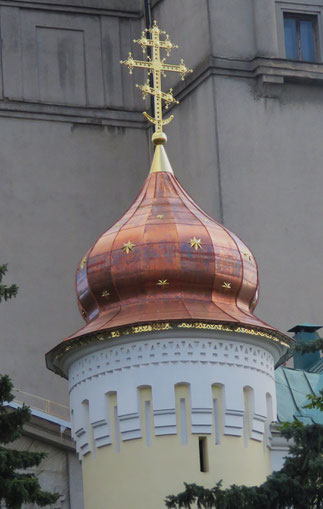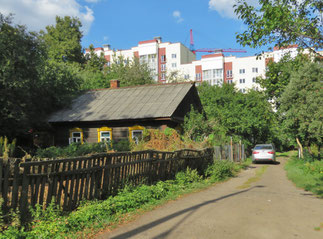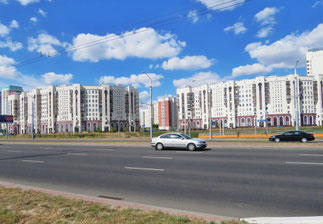 Since my visa will expire at the end of the month, I had to say goodbye to Minsk without visiting a Rotary club. Too bad. So I drove along one of these main roads, which were decorated again and again by artfully arranged flower arrangement and soon landed on a highway leading south. Rows of apple trees along the hard shoulder (with beautifully ripe apples) was a perfect spot for lunch.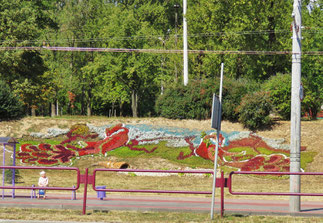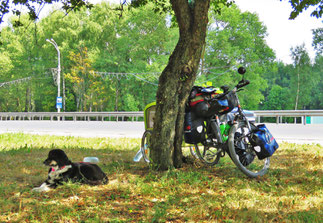 After about 20 km along the highway I had enough from the noise and left the highway. The roads parallel to the highway ere often far away and I had to do some detours. Sometimes through industrial areas but also through nice forest and agricultural fields. Soon after leaving the highway I cycled along a large factory and felt "Swissness". The reason was: Stadler Rail has built here a large factory and I had due to their length several minutes to ride along. The further I was away from the capital of Belarus, the more the industrial plants disappeared and I could ride along vast fields and forests. There were many big agricultural and forest plants who often had artistic signposts.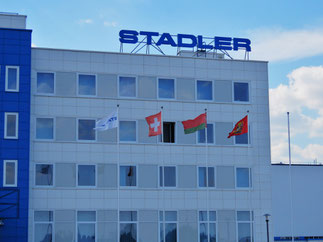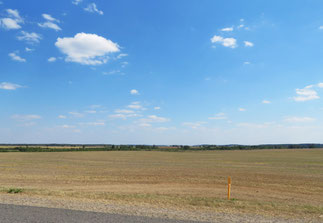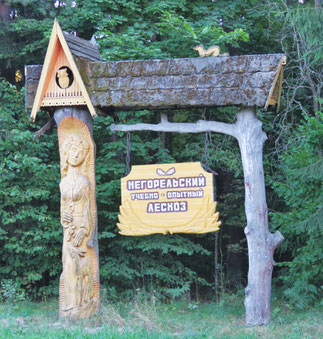 When I cycled in Lithuania the harvest was still in full swing and here it was already completed. The fields were harvested, the straw balled or put in artful structures as high as a barn.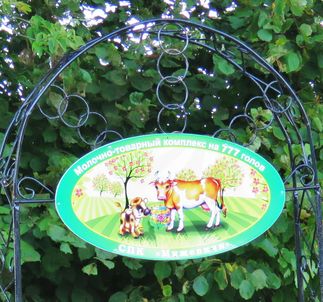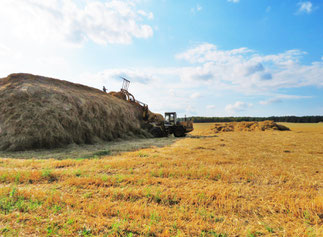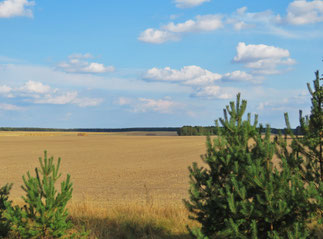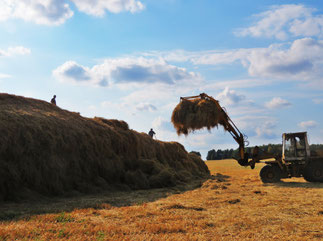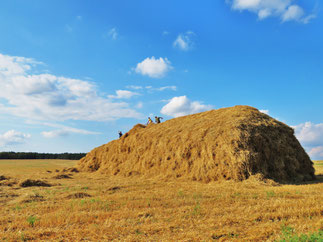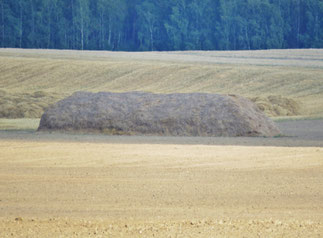 In these vast plains I was able to experience wonderful sunrises almost every morning from my tent at the edge of the forest.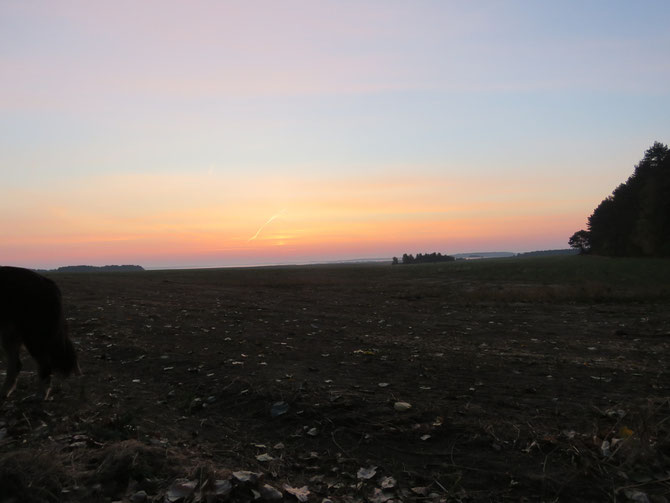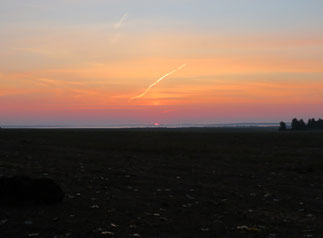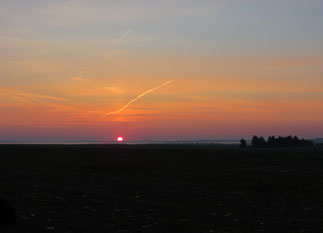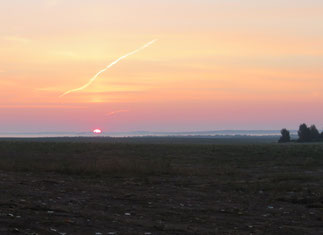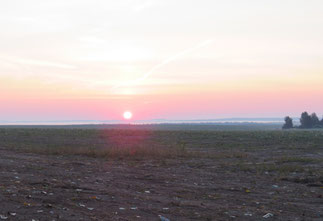 Slowly I approached the Polish border. I cycled past idyllic bathing ponds, dreamy towns and villages with colored houses and always a goose pond. There were smaller and larger Orthodox churches and still many horse-drawn carriages. Lowly kids were selling their own picked up prunes for a few rubles.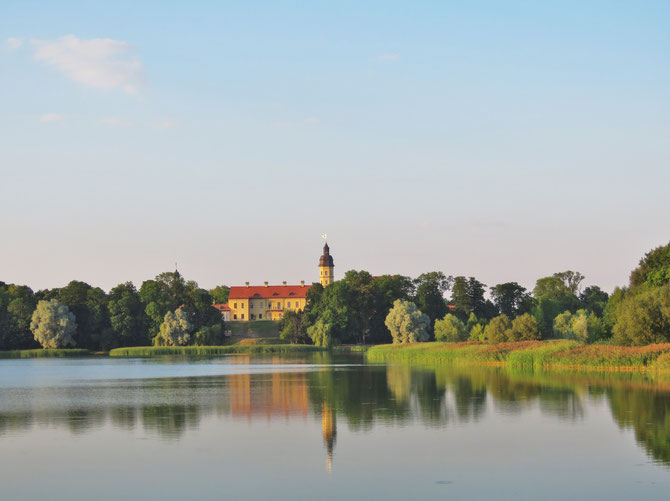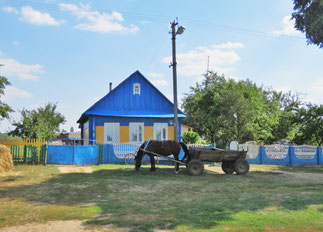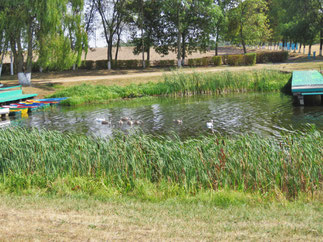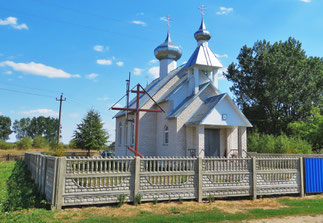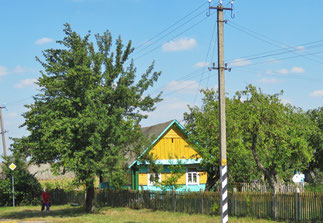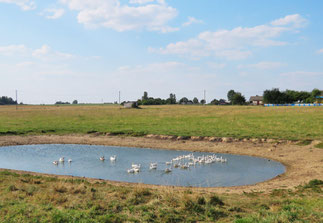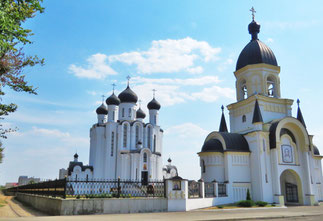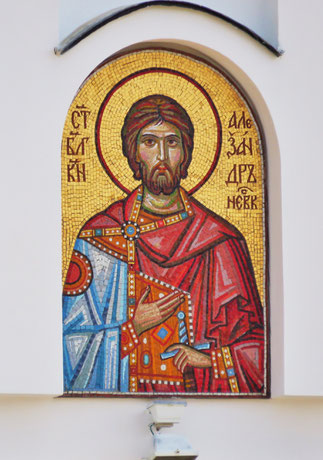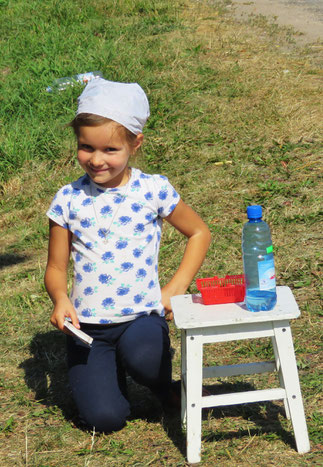 In Belarus I also met six Russians who cycled from the Belarussian Brest to Moscow, and later this Belgian couple on their way to Mongolia.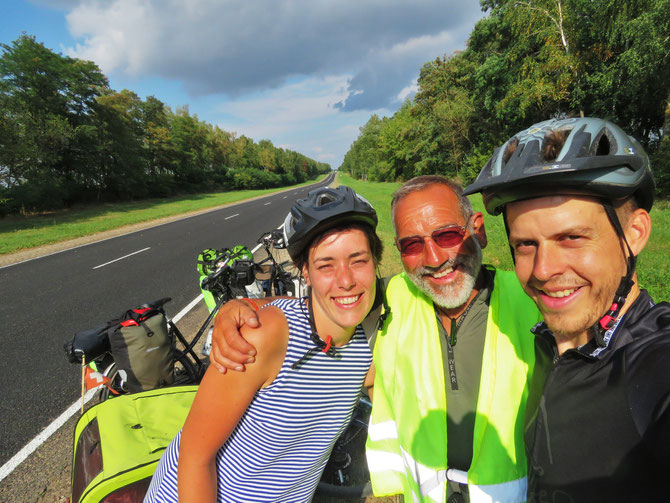 Again and again I saw old locomotives and railway carriages standing arround in depots like open air museums. Every railway friend would probably have a lot of fun here. Today the public transport takes place mostly by bus, because  along the road there are countless wonderful decorated waiting shelter.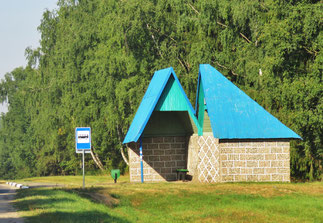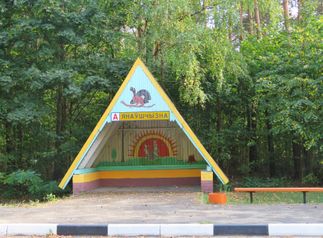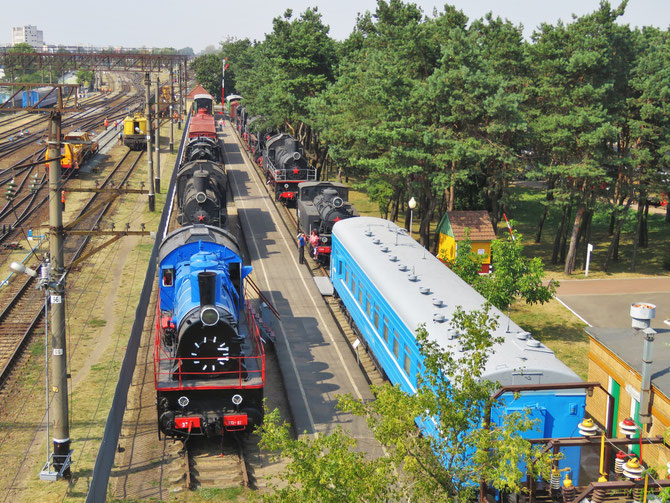 The latter, with the Capercaillie I found just a few kilometers ahead of the big gate to the largest forest park in Europe, where you can found European bison. I was really looking forward to this park, but at first my nerves were a bit strained. I actually wanted to stay in front of the park, but since I did not find a suitable place, I suddenly stood at the entrance gate to the park. The park attendant present made me aware, that one can probably cross the border by bike - but not with a dog through the park. I started discussing and she started to phone to the supervisor and I was already preparing to pitch my tent next to the guardhouse to await next morning. Suddenly the shift detachment of the border guard came and wanted to go through the gate. The gatekeeper exchanged a few words with them and told me that if I was at the customs  20 km away in an hour, I could drive through. Just some seconds later I was already on the way. The park ranger had thus solved this problem immediately without big discussions which served all.  

   In the park, an old hunting ground of the Czar, I met some of these beautiful bridge railings but not many animals. The clearance by the Belarusian border control lasted only two minutes and I was before dawn at the Polish custom.