from  km  0  to  km  310        total 310 km
Midnight sun on May the 21/22 2015: Start  of the Great Adventure.
The following event belongs actually still to the preparations. But a start at the North Cape without midnight sun is impossible.
We write the 21st of Mai 2015 at 22:30. The three of us - my wife Astrid, our friend Barbara and myself arrived in the parking lot at the North Cape. Minutes after 23:00 the last sunbeam vanished behind a bank of clouds over the horizon. The clouds got denser, the wind stronger and we decided to go in to the big North Cape Hall. We were not aloud to bring the dog inside and after some discussion about this nonsense, I took Dimitri back to the Campervan.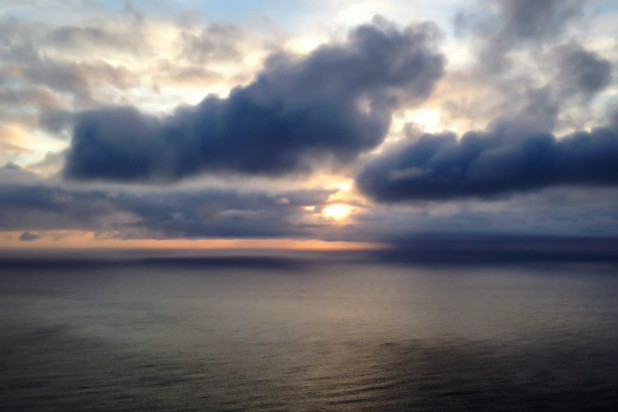 After some minutes I came back to this big hall and there Astrid told me that in the speakers made an anouncement that Fredy Huber should come to the Information Desk. I thought, the discussion about the dog might go on ( I was a bit rude), but instead I was handed out a package from a man called Walti.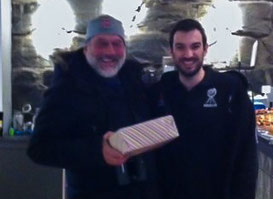 I really was surprised and had no idea what this could be. I was puzzling.Then I could not unpack this parcel fast enough and it turned out to be a great surprise from my Rotary Club Zürich-Dietikon. It brought tears of joy in my eyes and only some days later, it dawned on me that this was the ominous "Starting Line" our friend Walter Menig was talking about. This surprise was very successful. Thousand thanks to Walti, Carol, Gian-Reto and all others involved.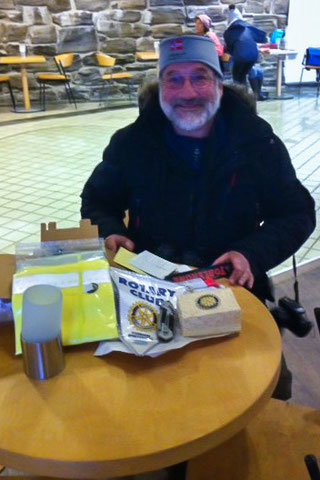 What was in this parcel? Writing utensils and a knife (both in daily use), safety vest (sometimes worn) and the lovely snaks already disapeared.
Back at the campsite in Honningsvag there was the next parcel awaiting. A parcel from my practice crew - with my offical bike jersey. A big thank to all participants!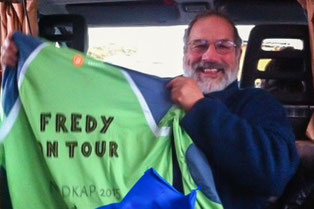 May the 22,  2015:    Let`s go!
It was a very short night with all those excitements and surprises.
Shortly before noon we arrived again at the Cape. Now I wanted to be ready as soon as possible because I was willing to ride back in a decent time to the campsite in Honningsvag. I wanted to spend my last night in the campervan.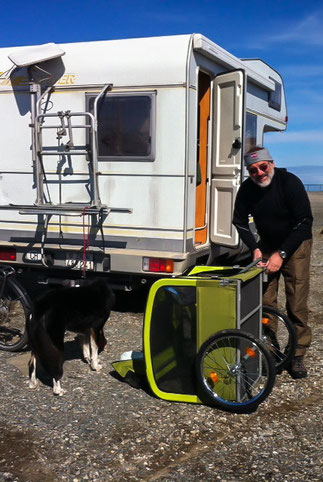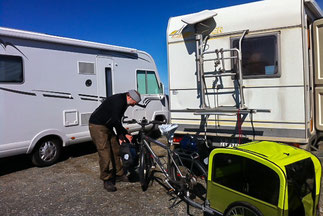 Assemble the trailer and attach the bags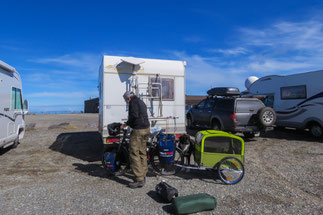 The young man with the green jacket was a cyclist from Winterthur, Switzerland. He rode from Gibraltar to the North Cape and will fly home now from Alta to Zürich-Kloten.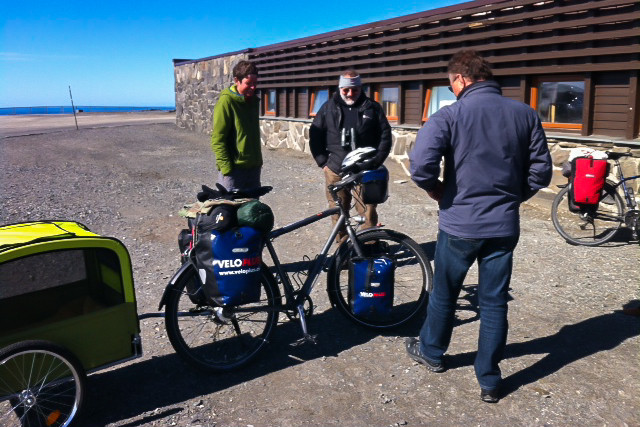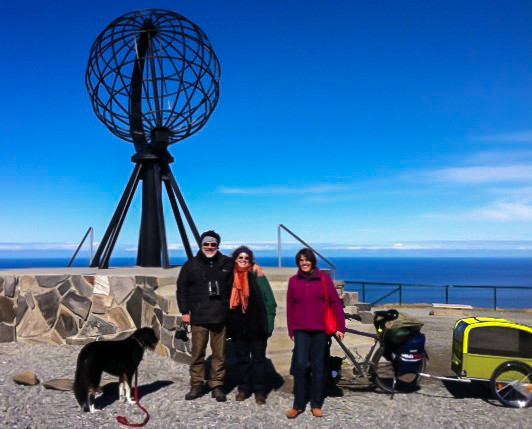 THE POINT: Start of the big adventure and the first farewell.From now on the great support from Astrid is dwindling.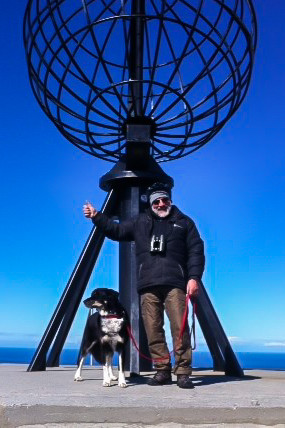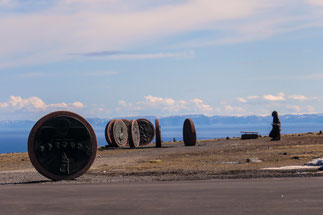 This grim Viking wishes us an nice day.
The smell of reindeer is great pleasure for Dimitria nose and also the reason why he has to be on a leash from time to time, Reindeers are not happy when chased.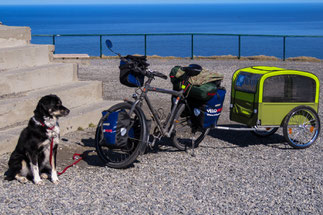 Dimitry has not overcome his scepticism. "What the hell are you doing here?" - I just want to run a little bit with my  senior dog.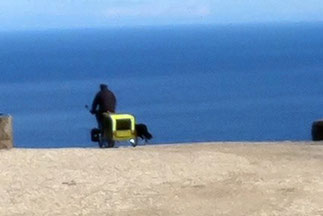 Let`s go! 
This journey into the unknown starts: 
66 years old and not a little bit wise.
The fact that I will fulfil my dream astonish me most.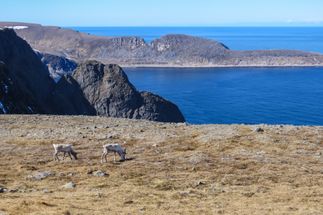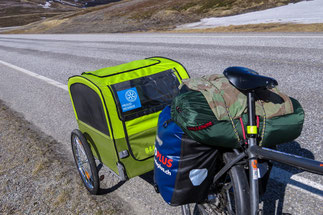 For me as an untrained cyclist, the first few kilometers were no problem. But Mageroya, the  island on which the North Cape is located, is very mountainous. It was locically, that after some time the old man got out of breath and his vehicle and the dog had to wait until the rider got his breath for the next few kilometers again.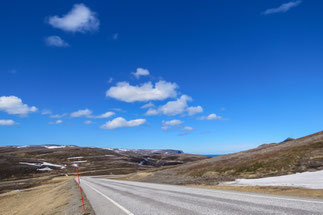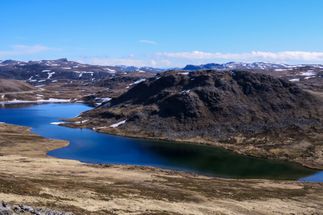 If you look at these nice pics you can`t feel neither the cold nor the constantly blowing wind. The wind always changed its direction. strong headwind, sometimes tailwind and often crosswinds. Wind can be the nightmare of cyclists. Nevertheless we had beautiful sunshine and 1 to 2°C. Due to the wind with a chill factor of -5°C. I had to wear the down jacket and this was not very pleasant. At the end Dimitri and I were more than happy to see our campsite in Honningsvag and to put up our legs after these first 28 kilometers.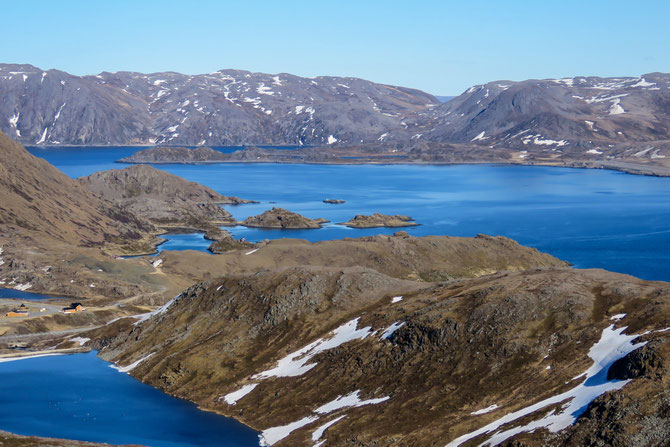 May 23, 2015       The next big challenge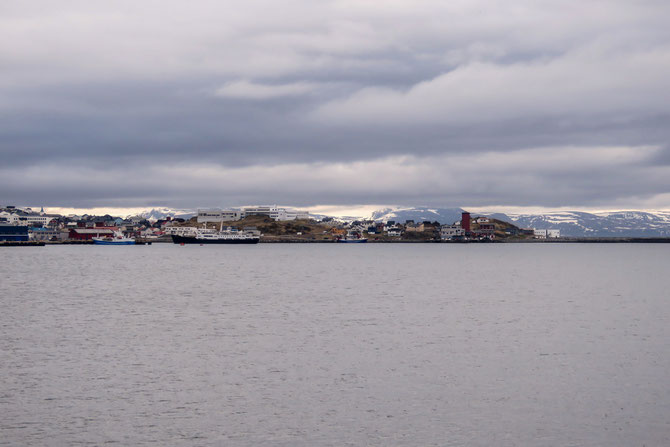 The view back to Honningsvag before I desappeared in the Tunnel.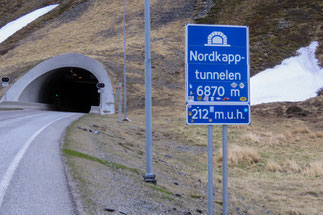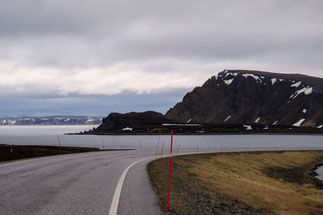 Between Mageroya and the mainland the former ferry was displaced by a 7 kilometer long and dark tunnel and 212 meter below the Mageroyasundet. This is for coaches and cars no problem at all but with a bike it was really unpleasant. The downhil and the flat sections were all right but the last three kilometers were a torture for me. My untrained body got cramps in both legs and in shoulder and chest but I made it and staggered out of the tunnel.
It was a good decision when Astrid and Barbara waited  ahead of the tunnel and took Dimitri into the campervan.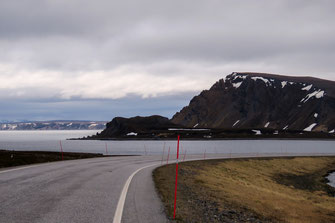 Abschied von Mageroya und der Himmel verspricht nichts Gutes. Wir radelten also nun der Küstenstrasse entlang. Zuerst machte uns nur das leichte auf und ab der Strasse zu schaffen, aber ab dem späteren Nachmittag setzte der Regen ein. Nach 64 km und zwei Stunden Fahrt im Regen hatten wir genug! Und da es einen Wegweiser für einen Camping auf der Halbinsel Repvag gab, entschieden wir, dort Halt zu machen. Leider war der Campingplatz noch geschlossen. Aber es gab ja auch ein Hotel und wir wollten (konnten) nicht mehr weiter. Das Hotel war eine etwas umgebaute Fischfabrik, kalt (auch im Restaurant) und eigentlich sauteuer. Aber ein feines Stück Rentierfilet und einen guten Tropfen Roten wärmten mich wieder auf.
24. Mai 2015
Ein richtiger Sturm mit horizontalem Regen peitschte über Repvag und hielt uns zurück. Bei einer Windstärke von 25 bis 30 Knoten ist es auch unmöglich, mit dem Fahrrad zu fahren. Ich verbrachte den ganzen Tag im Restaurant (ausgenommen kurze Versäuberungspausen mit Dimitri) und ich erlebte, wie es überall bei den Fenstern und Türen reinregnete. Es wurden Kübel untergestellt und ich bemerkte mal zur russischen Gerantin, dass sie doch besser die halbvertrockneten Zimmerpflanzen drunter stellen soll. So verging der Tag mit Internetarbeit und rumsitzen. Diese Zwangspause tat uns beiden aber gut und wir konnten uns schön erholen - ganz ohne schlechtes Gewissen. Es ging übrigens auch kein einziges Fischerboot hinaus - alle blieben im Hafen vertäut.
Mai 25,  2015    From Repvag to Olderfjord
The next day I got back to ride my bike. Some small clouds and a little breeze were no challenge and Dimitri peacefully trotted alongside. Just when his nose smelled some reindeer and he got nervous he had to be on a leash. Also the 3 kilometer long tunnel ahead of Olderfjord was easy to ride.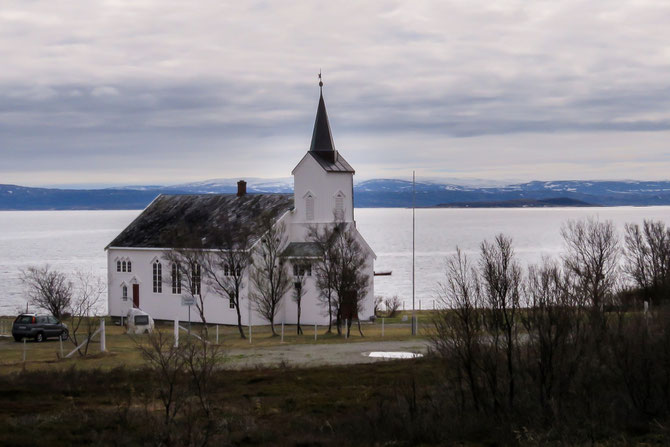 May  26,  2015   Olderfjord to Stabbursdalen
Wonderful sunshine for the whole day and Porsangen showed from its most  beautiful side. The pics speak for themselves.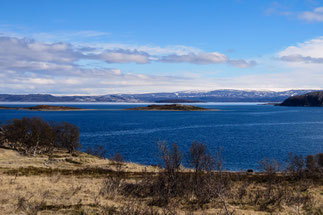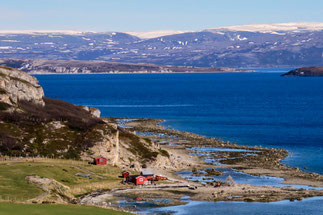 27. / 28. Mai 2015 - Stabbursdalen - Lakselv - Skogavarri - Karasjok.
Das Wetter über die beiden Tage war etwas von Allem und erst ganz am Schluss - vor Karasjok - gab es heftige Regenschauer. Angefangen hat alles wunderschön mit etwas Vogelbeobachten in den Valdakmarschen. Ich hatte Glück und konnte sogar zwei der seltenen Zwerggänse beobachten.
May  27 and 28,   2015   Stabbursdalen - Lakselv - Skogavaeei - Karasjok
On those two days the weather changed from time to time. I started in beautiful sunshine with some birding in the Valdamarschen. I was realy lucky and could see two of the most rere Lesser White-fronted Geese.
The mountain range in the background got its snowy cap during the heavy storm I experienced in Repvag some days ago.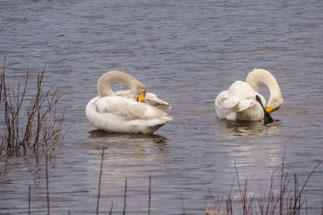 Lesser White-fronted Goose in Valdamarschen and Whooper Swan in Skogavarri.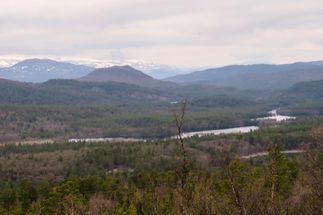 Now I just had to cross the last mountain range ahead Karasjok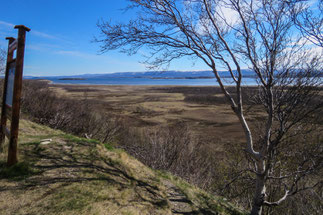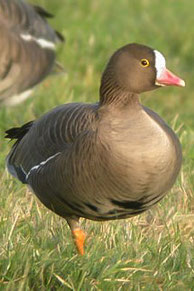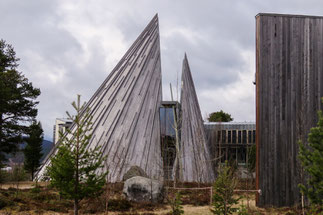 Karasjok is the town with the Norwegian Sai parliament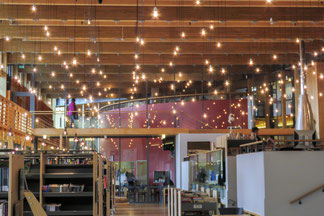 The ligh installation was inspired by the starry sky of the open tent of the Sami People.
May 29,  2015   Karasjok to the border Norway/Finnland
After a further 20 kilometers the adventure in Norway was history. We cycled or walked (Dimitri) 319 kilometers through Norway and crossed the border at 12:30 on May 29, 2915 without any complications.