von       14`527 km  -  16`066 km      total  1539 km
I was still cycling in Egypt when I saw behind a small elevation the new buildings of the border control. After buying me into this compound (for what reason?) my whole luggage was X-rayed and after that We had to go for health control of the dog (distance about 10 meters). Now I could collect the stamp for leaving Egypt. In Sudan I only had to get a health certificate for Dimitri (the same useless procedure) and after that they let ma go into the Sudanese desert. In Wadi Halfa I met again the two overlanders and I could pitch up my tent between those big cars. Due to the procedures for their cars at the border, they have not been faster than me. The next day I left early because I had to cycle through a mountainous desert area. Every day I managed between 80 and 100 km with up to 400 meters in height - quite a lot for an old man. Again and  again there were carcasses along the road witch caused a sweetish smell by passing them. These were the animals from Sudan aimed for the big slaughterhouses in Egypt. Many of them are dying during this long travel and are dumped thereafter along the road - despite any health problems. I was astonished that I never saw any Vultures until I was near the Nile Valley. The first one was a dead one but some cadavers later I saw 2  birds together with scavenging ravens. In a distance I could already see a green band and in front of it some villages.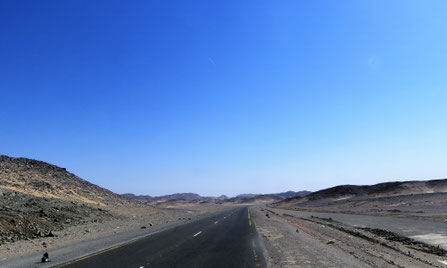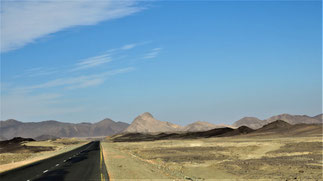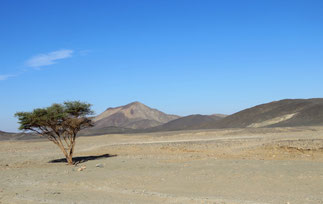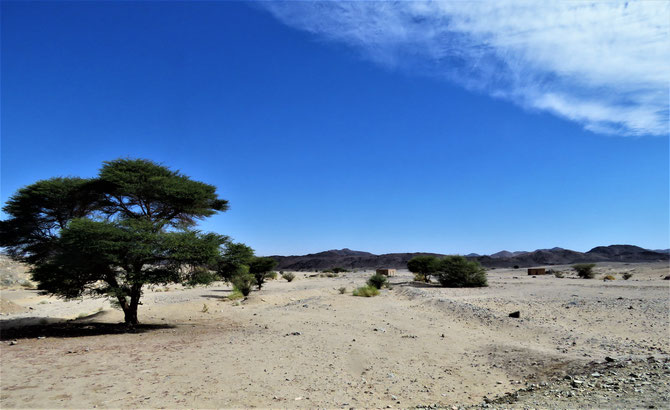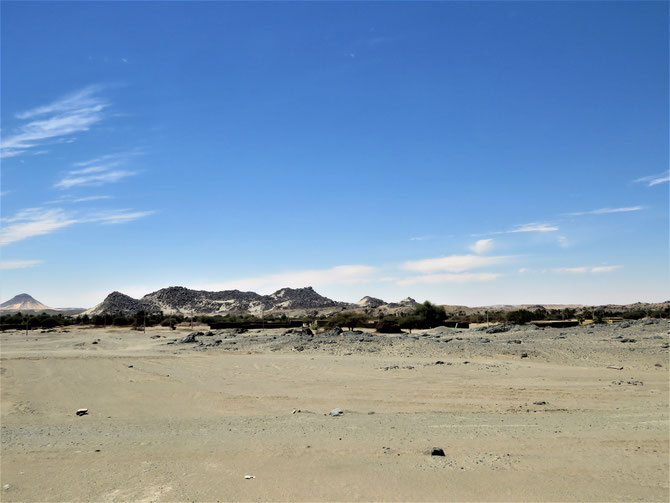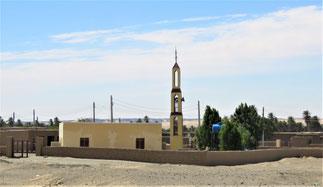 Striking the mosques with their simply built minarets and the big walled Nubian houses with their colorful entrance gates.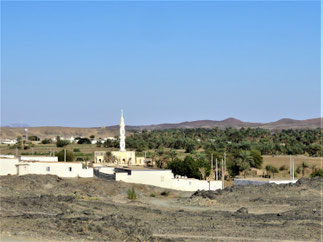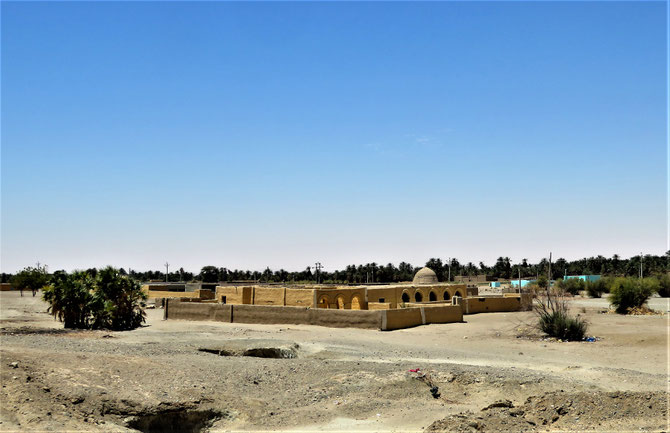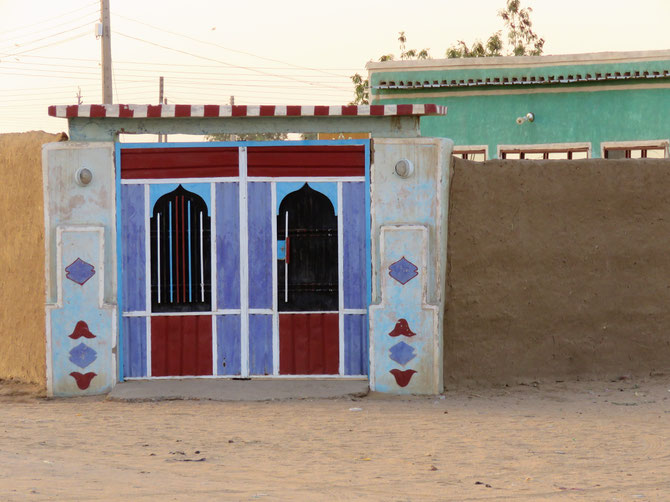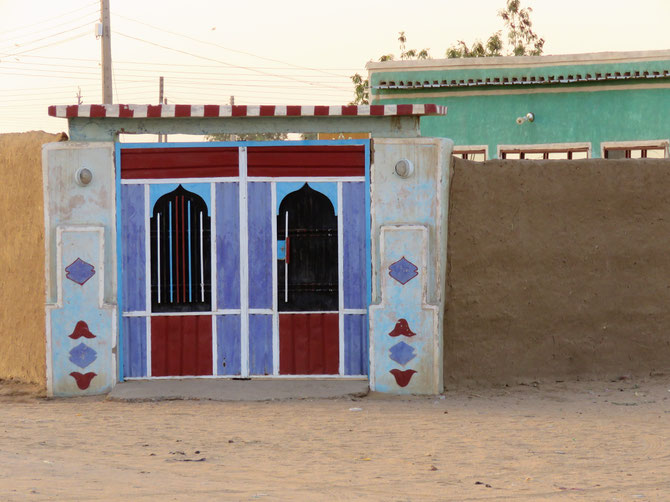 To get o the Nile river one had to cycle through those villages. In these lively villages you can buy food and most thing for daily life and you can watch the blacksmith working on his outdoor forge and the shoemaker next to him which mended also my shoes for nearly no money. They are now more made in Sudan instead of the lousy made in China. After a meal I went for a nice bath in the Nile  river for cooling down a little. But here you have to pay attention due to the Crocodiles and you should only take a bath where the villagers also do it.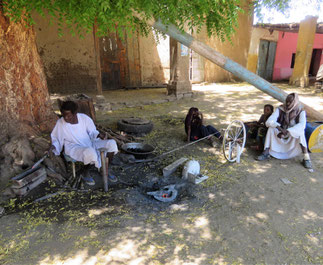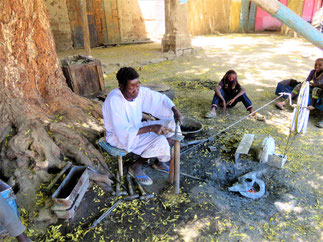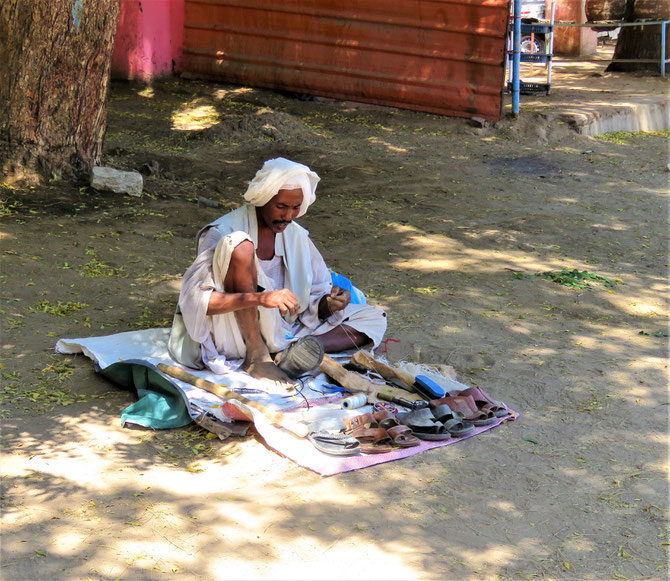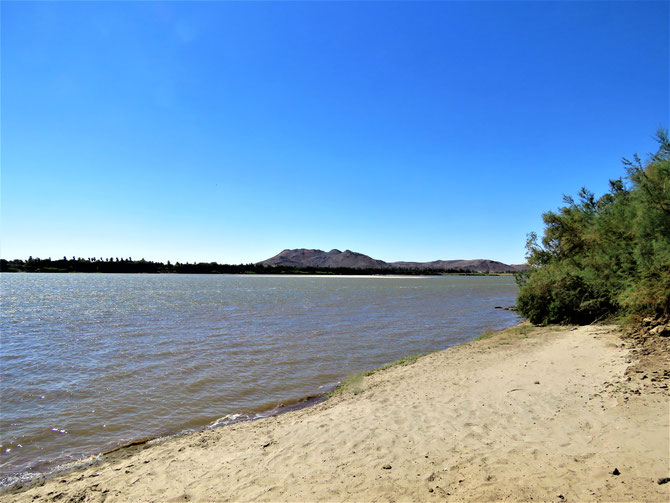 Up to the City of Dongola I rode more ore less along the Nil and in Dongola I crossed the River over the only one bridge. Also on the left side of the river i was never far away from the water but finely in Al Dabbah the road left the Nil oasis and I had to cycle more than 300 km through the bare desert. Along the Nile the irrigation system is quite good and also far from the river they can plant vegetables and food for the animals. There are many big herds of camels who wait for the transport to Egypt. I stayed in this lovely area a few days and it was always beautiful the see the rising sun over the Oasis.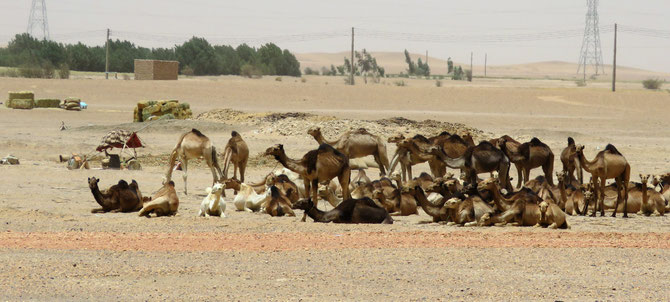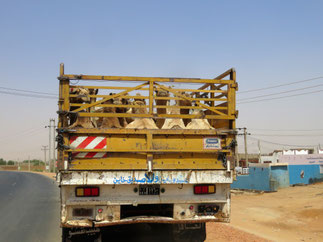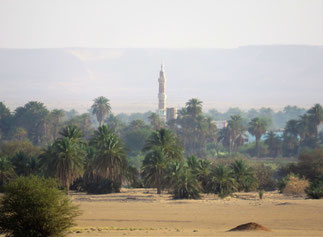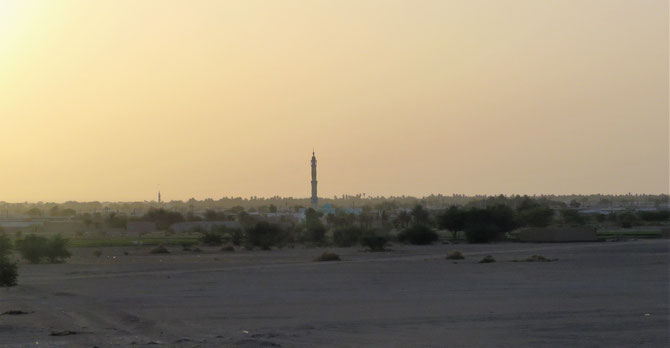 The last 300 km ahead of Khartoum  was really a challenge for a Cyclist and I also got the misfortune that already in April there was a heat wave  with temperatures well over 45 degrees Celsius. We had temperatures from 54° and my body got to the limit and the water consumption was up to 15 liter per day. Dimitri as well had some problems to keep the body temperature in its normal range. But with time we managed the Problems quite well.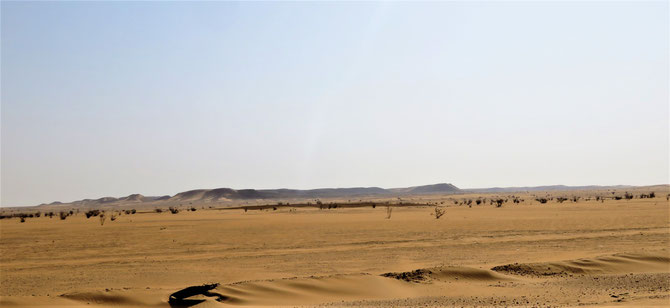 We started between four and five am and searched for a nice place in a restaurant after ten am. There we tried to stay and sleep until around four pm. Restaurants for all the many people who travel by bus  we could find nearly every 50 km. There we could eat and fill up our water. We avoided to ride during the night and when we arrived in the evening in a suitable place we eat something and stayed there during the night. Most guests just stayed there  and slept there, after a nice "chai" on a carpet or a simple camp bed. Interactions with the people were outstanding friendly and I always was asked to eat and drink with them and not to cycle during the midday heat.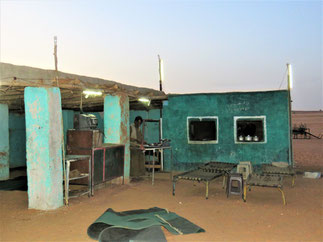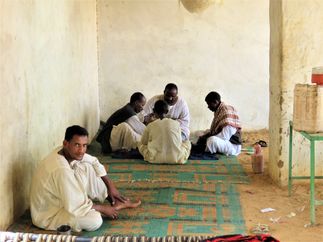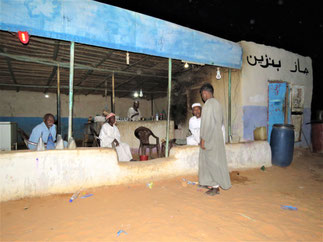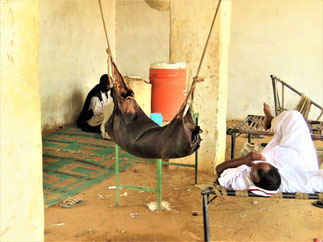 How to keep the meet fresh, the butcher`s table, the fresh water system and the stove.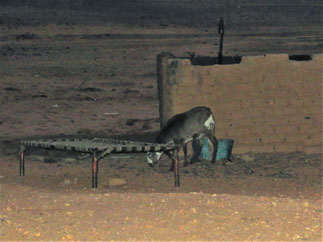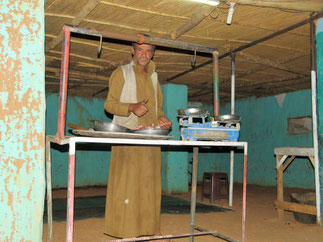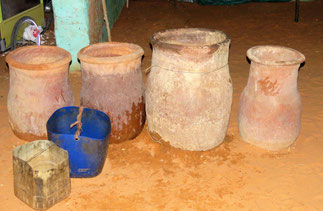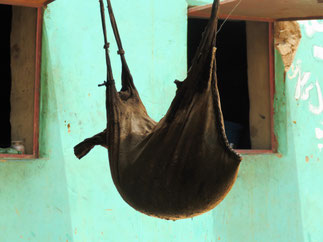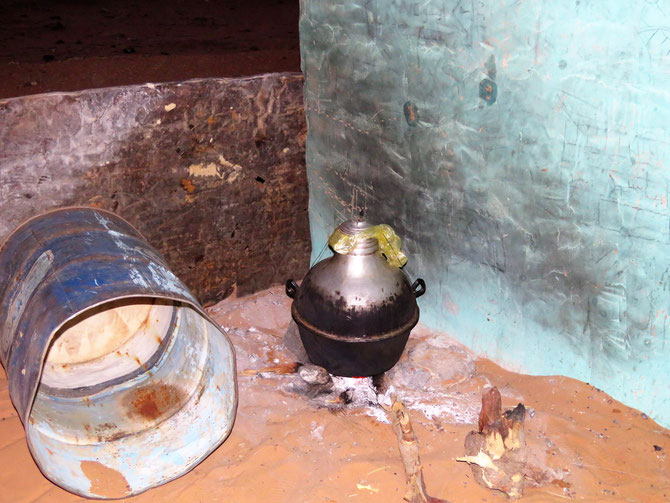 About half way to Khartoum there was more and more vegetation and almost imperceptibly you came to the Sahel. Here there were then again scattered villages where agriculture was operated. Camels and some goats and sheep are the livelihood of these peasants, but here and there already a brand new Toyota stands in front of the house. Some big "rocks" in the middle of the sand came to my attention as well and as they all stood in one direction I looked a little closer. It was the first termite mounds that enrich the East African landscape.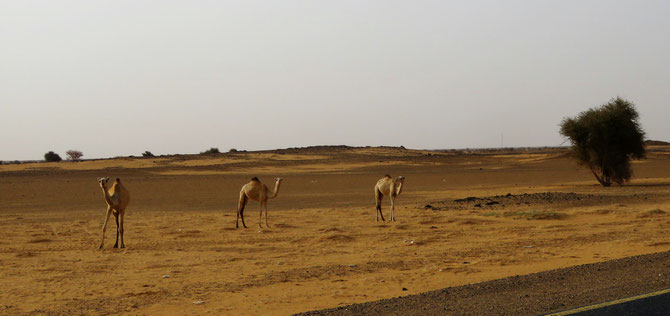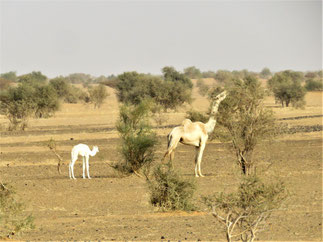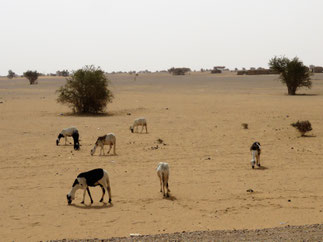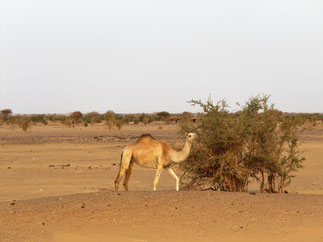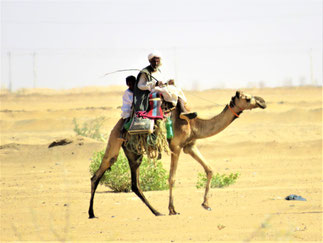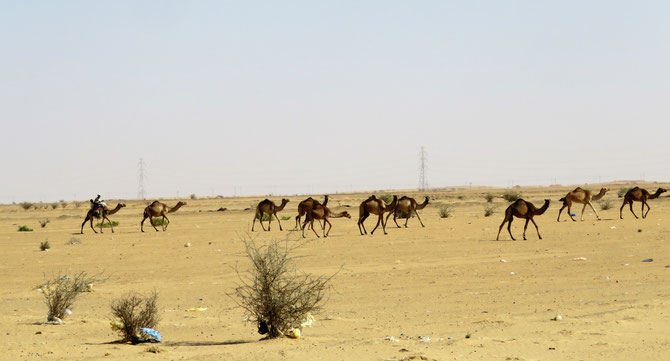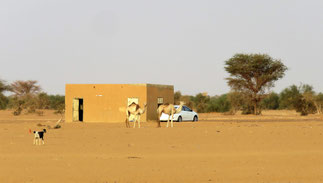 Soon I was in Khartoum, the capital of the Sudan. I had to cycle over 30 km through the city to get to my accommodation. It was Thursday evening, the evening ahead of the Muslims week end and this would be like Saturday evening in Europe. There was an unspeakable chaos and everybody was on his feet.. With my trailer, I hardly came from the spot and was repeatedly trapped between stinking tuck-tucks, trucks and buses. Finally, it was already pitch dark, I reached the German Guesthouse, my accommodation for a few days. I rested a bit and recovered and made bicycle repair and a city tour. Khartoum is located at the confluence of the Blue and White Nile. From the adjacent Korinthia hotel you have (despite dusty windows) a good overview of the river and the island of Tuti in the middle of the Blue Nile. Otherwise, there are no much more things to see in this somewhat dirty city. 50 years ago, Khartoum was one of the most beautiful cities in East Africa and had large industrial facilities (railway construction) and prized other cities with its promenade and its modern tramway.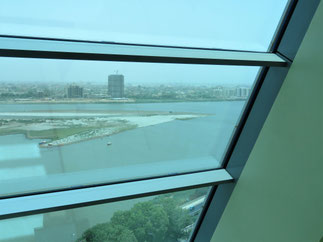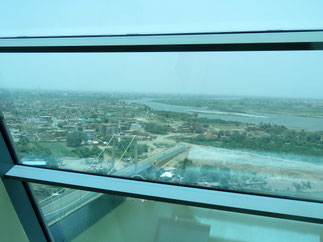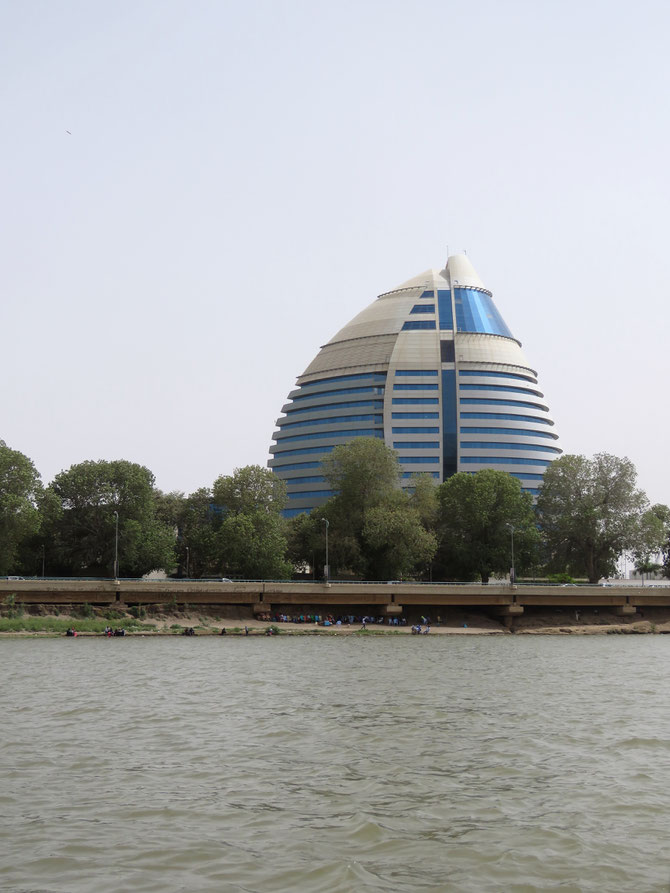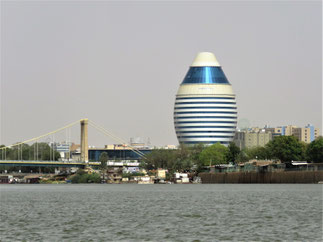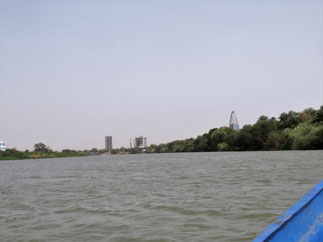 The German Guesthouse is a small, clean and lovingly decorated hotel. Here live long-term guests such as the German Günther, in his capacity as director of a large helicopter company which carries out flights to the oil fields and also relief flights for the UN. As a result, you will meet in the hotel again and again UN people, journalists and other illustrious persons who seek the help of the lodge manager Norbert and Günther. Günther love it to cook sometimes for guests a typical southern German dinner. Thank you Günther! The small lawn around the pool is cared for by a very special lawn mower, a giant spurred turtle that Norbert bought on the market and thus saved from the saucepan.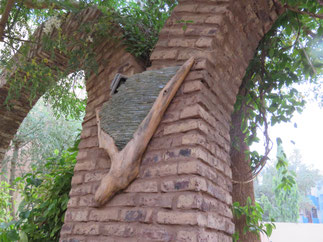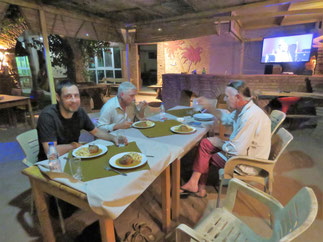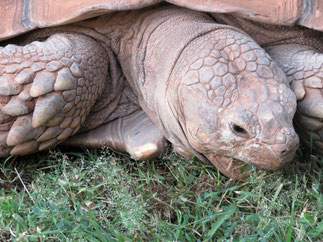 Nach einer Woche hatte ich genug und machte mich auf die lange Reise nach Aethiopien. Es hatte auf der einzigen Strasse in Richtung Grenze relativ viel Verkehr (Busse und Lastwagen) da es auch bis Al Quadarif die Hauptstrasse nach Port Sudan ist. Es war trotzdem schön zum fahren, da auf weite Strecken eine neue vierspurige Strasse gebaut wird und ich oft die noch nicht in Gebrauch genommenen Strecken benutzen konnte. Die Gegend wurde immer baumreicher und es werden grosse Anstrengunge gemacht mit verschiedene Akazien den weiteren Vormarsch der Wüste zu stoppen. Da es kurz vor der Regenzeit war, und es an einigen Orten schon geregnet hatte, wurde es auch etwas grüner. Die grossen Viehherden suchten unter den Bäumen Schutz vor der prallen Sonne und am Abend kamen aus allen Himmelsrichtungen die Tiere an die Tränke.
After a week, I had enough and headed to the long journey to Ethiopia. On the only road to the border to Ethiopia was much much traffic (buses and trucks) as it is also the main road to Port Sudan. It was still nice to drive, as a new four-lane road is built on long stretches and I could often use the not yet used new parts. The area became also richer in trees and great efforts were made to stop the further advance of the desert with planting various acacia trees. As it was just before the rainy season, and it had already rained in some places, it was also a bit greener. The large herds of cattle were sheltering under the trees from the blazing sun and in the evening the animals came to the wells from all directions.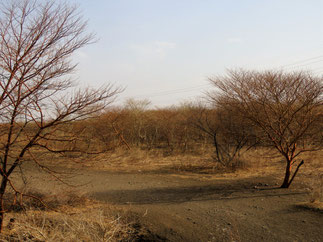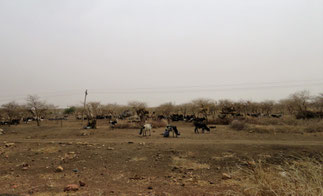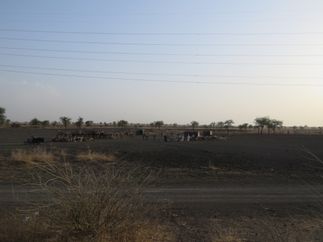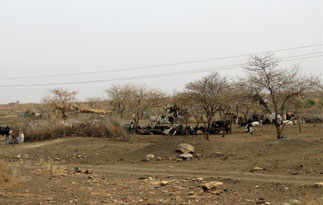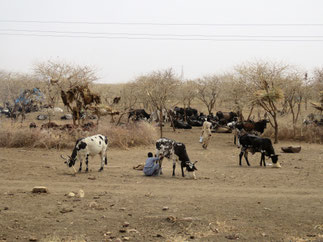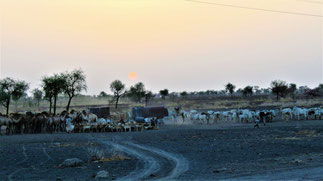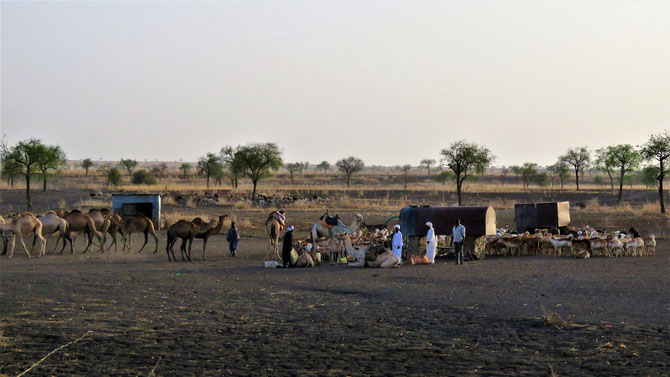 Nach Al Quadarif gab es nicht mehr viel Verkehr, dafür Steigungen und heftigen Gegenwind. Hier traf ich auch den Argentinier Favio der schon seit über 32 000 km in Afrika rumkurft und auf dem Rückweg nach Europa ist. Er erzählte mir von steinewerfenden Kindern und unfreundlichen Erwachsenen in Aethiopien. Er, und auch andere Radfahrer, seine entnervt geflüchtet aus Aethiopien. Das sind ja schöne Aussichten, dachte ich mir aber die schöne Gegend liess mich unbeirrt weiterradel. Die Siedlungen waren nun immer weiter von der Strasse entfernt und nahmen auch eine ganz andere Gestalt an. Die Lehmhäuser waren rund und strohbedeckt und auch die Bekleidung der Menschen wurde farbiger. Die ersten paar Baobabbäume bereicherten das Landschaftsbild und ganz allgemein wurde es grüner. Die Grenze war nicht mehr weit.
After Al Quadarif the main traffic went to Port Said and therefore it was good cycling towards the Ethiopian border, despite the ere was many gradients and strong headwinds. Here I also met the Argentine Favio, who has been cycling in Africa for over 32,000 km and is on his way back to Europe. He told me about stone-throwing children and unfriendly adults in Ethiopia. He, and also other cyclists, just fled from Ethiopia. These are beautiful news, I thought to myself but the colorful area let me go on undeterred. The settlements were now further and further away from the road and took on a completely different shape. The mud houses were round and covered with straw and also the clothing of the people became more colorful. The first few baobab trees enriched the landscape and in general it was greener. The border was not far away.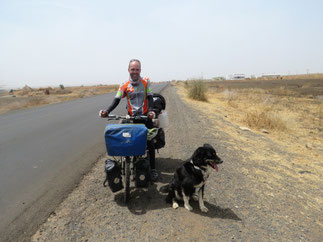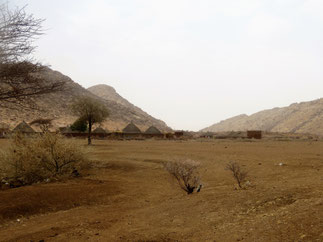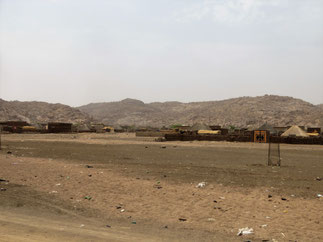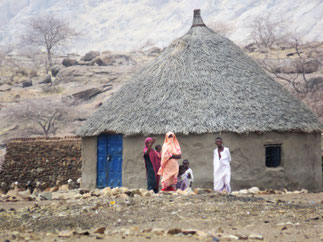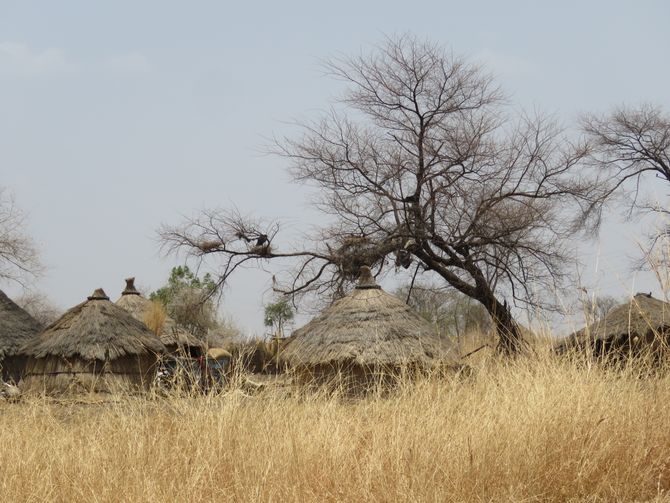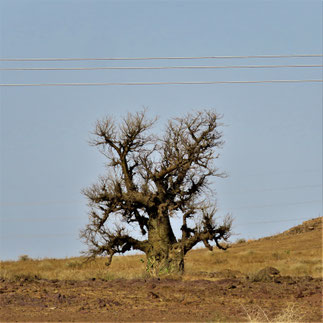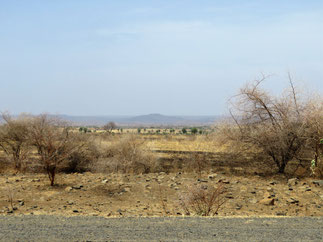 After  cycling 1539 km through Sudan I was thus on the border to Ethiopia. The border consisted of two settlements Galabat in Sudan and Metama in Ethiopia.
That is, it was the usual collection of houses and stalls of every shade and in between there was a stretched rubber rope which marked the border. First, I had to visit four different offices in Sudan before I got the entry stamp for Ethiopia. And then another search of my belongings, great admiration for Dimitri and I was in Ethiopia. Waiting eagerly for what may come - but first I needed a beer.